The Wooly Post // June 2015
Afternoon all,
Today I great you with a feature which I hope will be an ongoing one! Reviewing products and sharing new knitting products out there is something new to me and although I don't have a bank budget to do a feature every week I might be able to muster up a few bits to do once a month. It's something I've just naturally progressed into wanting to do and I would LOVE to give it a go and create a thoughtful review for you creative types out there!
If you would like me to review any of your products please send me an email, you can happily send me something to knit, spin or sew and if its craft related then also read. I'd love to broaden my horizons and yours also!
I shan't make you wait too long, I have few reviews for you all today! First up…
THE WOOL BARN 'based in the UK'
Tweed Sock Yarn (Fingering Weight) 85% Superwash Merino and 15% Donegal Nep.
So I overheard from a few sources that the yarn for this online Etsy store is Amazing!!! and it doesn't take much as you all know to persuade me into spending my lovely pennies. Finding two sources at a similar time both raving it's beauty and appeal, what are the chances?! Both people were saying how soft The Wool Barn yarn is and how nicely considered the shades are!
Then I'd spotted some projects knitted up in The Wool Barn yarn and well, I just had to didn't I!!! It would only be fair to my stash and myself!
So it urged me to add some to my stash, I unfortunately I caught the shop after an update had nearly sold out which was a shame however there were still a few remaining skeins to choose from and a Tweed Sock skein caught my attention. The skein has a classic rustic look with it's subtle terracotta shade and neutral looking tweedy nups in cream, light browns and chocolate. The feel of it is something else though, the Superwash Merino is unbelievably soft to touch this is going to look great in my next pair of socks and it has an ample length of 400 metres which is great because I usually then have some yarn left over for my memories blanket!

When knitted the yarn is even and Neps are nicely spaced so it doesn't look too crowded which I love. I'd love to grab another colourway at somepoint i've been looking over her past sales and I have a few Tweed Sock favourites such as Adria (Below), metal (semi solid grey with nep) and Soft pink (I seem to be liking pink more as I get older)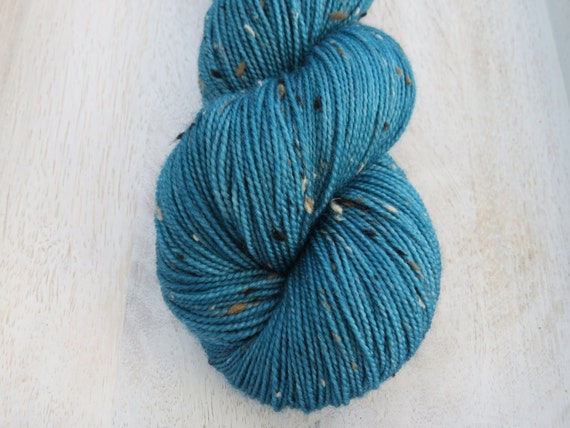 Customer service was also greatly received, my skein arrived promptly at my door a few days later and when opening my parcel I had not only my skein nicely packaged but a couple of little treats and a message! I like the little personalised efforts it reminds you of the love and joy these creative sellers put into their work and it's nice I feel like I've built a connection it's so sweet!
Maya is very kind seller and after talking to her you can tell she'll make all efforts to please her customers to the best of her ability it's so lovely. She happily will take custom orders and will reserve them for you! Excitedly the wonderful Maya has offered to send me something for the second edition of 'Wooly Post' hosted in July for a Giveaway, which will be kindly recieved thank you so much Maya.
And I'm sure all you peeps out there will look forward too that!  The Wool Barn's Etsy store is linked above you should pop over and check it out. Also please note that throughout June and July Maya won't be taking custom order as she's preparing herself to do two monthly store updates instead of one, but they will open again in August! 😀 Good Luck Maya!
AMELIE X JOY 'based in the UK'
Adventure Time Project Bag.
Awwww I just adore this project bag so much, the childish girl inside me adores Adventure Time and to have it on a project bag that I can horde my latest project in and whip it out proudly at work like when your a kid with a new shiny sticker lol! That kid is me..
I just adored this bag, its so very nicely made with a plain canvas lining and a little pocket for your bits and bobs which is handy. I can just slip my essentials in there and off I go! I went for an extra choice when purchasing and added the little ring to my bag purchase which is shown above in the first image with my little butterfly stitch marker sat on it! This little ring pops open so you can add your stitch markers too it which I think is a lovely touch!
Kindly Amelia added the sweet stitch marker to my parcel and some little peacock feather buttons which I've saved for a future project it's so nice when stores show they appreicate you buying from them and Amelia does she also gave me a card with a 10% off coupon code for me for all future purchases, she sent off my parcel very promptly and I was so happy when I recieved it.
Its a nice size for your socking knitting but you can fit approximately 200 grams in there if you wish, I checked. I sat here stuffing yarn in it just so I could inform you lol! Thankfully it's not a massive bag I'd be getting out the whole stash lol!!
The pricing of her bags aren't even expensive at £8 and there is so many to choose from it's great picking!
A few of my favourites are the lepidoptery bag, Star wars, and I'm hoping this one stays available I just Love, Love, LOVE it! Zebras.
Go take a look at Amelia X Joy's store on Etsy the link is above andyou won't be disappointed mine is coming everywhere with me, If you are after the Adventure Time bag in particular Amelia noted with me that at the moment she's sold out! That might be my fault 😉 lol!!
LAYLA AMBER 'based in the UK
Sitting Squirrel Brooch
So this piece of fine Jewellery was brought to my attenion via an instagram giveaway, however I do aim to purchase some of her accessories in the future I've already made note of a few things!
All of her handcrafted jewellery are hand painted and she sells not just brooches but necklaces and earrings. I'm very fond of her earrings as well not just due to the cuteness of having little acorn or maple leaf earrings but also because they are silver backed, if you are any thing like me and struggle to buy earrings that aren't silver due to sensitive ears then Layla is winning!
Upon recieving my brooch I feel in love with the craftsmanship and consideration of using layers of wood to create the background and foreground, also the lasercut image is just whimscial and cute who wouldn't want such a sweet accessory.
In the autumn I will be proudly wearing this upon one of my handknit shawls as this isn't one of a kind but it will seem like it when everyone you show or meet give you compliments about it! Such a wonderful treasure to own!
One of my newest favourites is the Feather necklace so go check out Layla's wonderful full range of gems at her Etsy store linked above, she doesn't take custom orders as work is very busy but there is so much to choose from you won't struggle for choice.
Thank you for Reading my 'Wooly Post' Review and I hope you throughly enjoyed it, please I love to hear your feed back. Also anyone out there interested in sharing your knitting, spinning, sewing products with me for a future 'Wooly Post' review you are more than welcome to email me or pm me on Ravelry where I'm 'Killtocraft'. Please share and spend the Wooly Post word and I'll look forward to the next installment in July!
Have a great Weekend x
Follow Me On :- Bloglovin, Twitter, Ravelry, Instagram, Facebook Or Pinterest