NUNOCO 'based in the UK'
Colourway 'Antique Rose' a blended Merino Tops 90% Merino Wool and 10% Milk Protein. 100g of fibre!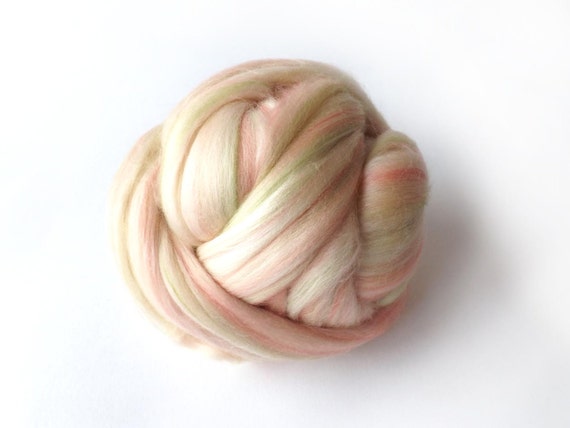 A few weeks ago I decided it was time to pick up and dust off that old drop spindle of mine and pick up where I left off!  Whilst on the search for spinning fibre I came across the Nunoco Store on Etsy! By gosh there batts and blended tops in a gorgeous array of colours won me over! All careful picked and blended by the lovely team Candy and Lora who very kindly and helpfully gave me advice on being a beginner in the spinning that a blended tops would be a better choice and explained the idea of batts too me which was greatly appreicated, So whilst on my search I here you ask what did I grab…!
This colourway is subtle but gorgeous, a beige/cream with hints of rose pink and leafy green when spun it creates a yarn that is very neutral but with little delicate touches of colour!
The fibre was beautiful to spin with and has a great staple length for a beginner to work on but not just that it was unbelivably soft, I've spun with merino previously but it wasn't as smooth and soft as this tops was, it was like spinning candy floss (cotton candy) but less sticky!!
Candy and Lora also enclosed a lovely and caring message to me as I weren't too well at the time and even enclosed two sample packs of the Merino Marina and Lagoon to try and also to see the colours up close which is bad for my wallet but great for my spindle because I've now popped the Lagoon on my wish list 😀
I recieved my package in the post but a few days later, so my gosh it arrived prompt and fast, the perfect shopping and crafting experience! I've already knitted up my dk weight skein of the Antique Rose and it even gets softer after washing. The fibre is really warm so my new hat will be saved for wintertime wearing!
What I loved most about this shop was the well considered colours of the batts and tops if I had a choice up close and personal to pick them I'd struggle I'd end up bringing most of it home, but not being close to see them shouldn't put you off it's worth every penny!
COOPKNITS MYSTERY KAL 'based in the UK'
2015 Coop Knits Mystery Sock Knit Along. £3
Most of you will know what a knit along is and most will  also know what a mystery knit along is! But have you been involved in one yet?! I hadn't but know I am I'm joining in and most of you will have seen Racheal Coopey's sock designs before and even knit them but if you haven't like me now is your time to do both!
You can buy the pattern on Ravelry and each week you get an installment or 'Clue' which is a part of the sock pattern to knit up. It's very exciting I'm waiting for the third installment was posted this week. With another clue after that so get in there and cast on some socks and join in the Kal thread over on the ravelry forum.
DREA RENEE KNITS 'based in the USA'
The 100 Stitch Slouch $4.80
I'm highly reccomending this hat as it"s a perfect design for anybody even beginner knitter who only know the basic stitches can delve a little and try out this hat! I already spoke highly about this hat in my podcast but it is a great design with or without a pom pom this hat is spot on with it's slight slouchy which isn't over powering and it's lovely  fit around the head which I found to be just right  it wouldn't fly off in the wind at least! i'm not keen on a loose fitting hat I like to know it will stay on! The constructon is made in the round work from the brim to the crown of the hat of which I used the magic loop method, I'd used my own handspun but it would take any dk weighted yarn just give it a swatch first! Such a great and simple hat design that's timeless and could make time and time again!
Please Remember if any designers, makers, fibre creators would like me to review a product on the blog or on my podcast please get in touch! I will however only review with kind words for products I believe in and feel suit my audiences interests. Please get in touch there is still space for August's Woolly post and a future podcast show and tell!
Follow Me On :- Bloglovin, Twitter, Ravelry, Instagram, Facebook Or Pinterest